Summer School 2023 in Budapest: How to democratize the use of digital technologies?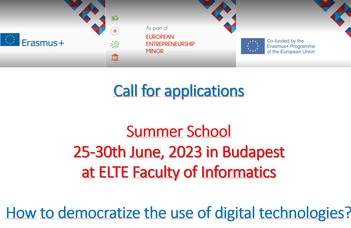 Are you interested in those challenges that come with the accelerated digital transformation and its effect on the democratic use of technologies? Are you open to analyzing the different processes that come with the turbulent changes in the business environment?
An exciting summer school on the topic of "How to democratize the use of digital technologies?", to be held in Budapest, Hungary, from June 25th-30th, 2023.
If you are ready to…
discuss the effects of social, technological, and business processes
provide tools and processes against digital poverty, and
contribute to better access to technologies.
… join this One-Week Summer School!

We will search for new solutions that embrace not only digital inclusion and data protection but avoid misinformation, focus on the responsible use of new technologies, help to dissolve fears, and build trust.
The Summer School is worth 2 ECTS. You will receive a certificate that can be validated for recognition within your studies (Depending on your Faculty rules, credits can be recognized). There is no participation fee, the costs of meals and programs are also covered. The venue will be the main hall of the EIT Digital Budapest.

Applications are open!

1. You need to fill in the following survey: https://forms.office.com/e/TCgUP7sr2N
2. And to, to validate your application, by sending us
The deadline for sending your application is April 30th. The number of seats are limited.
Students of European Entrepreneurship minor have priority, but as the event will be held at ELTE, students from any Faculty can apply. The results of the selection process will be sent by email on May 9th. For any question, please contact Alvaro Pina Stranger by using: portfolio-summerschool@univ-rennes.fr or your local teacher, Barbara Hegyi at bhegyi@inf.elte.hu.

Looking forward to having you with us in this Summer School!
Portfolio Project Team
https://www.inter-connected-education.eu/