Master's Degree Specialization Forum 2023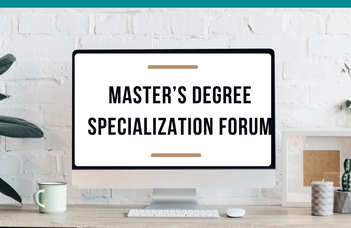 24. November 2023. 14:00
1117 Budapest, Pázmány Péter stny. 1/c, South Building, Mogyoródi József Hall (0-822)
2023. November 24. 14:00 -
1117 Budapest, Pázmány Péter stny. 1/c, South Building, Mogyoródi József Hall (0-822)
---
Are you studying for a Bsc in Computer Science and want to deepen your knowledge in more specialised areas of computer science? Would you like to expand your opportunities within the IT career in the future? Are you preparing for an academic career or interested in research and development? Would you like to apply for a Master's degree but are still unsure which specialisation to choose?
You are also welcome to join us at the Master's Degree Specialization Forum, which will take place in person on 24 November 2023, from 14:00. The event will feature a roundtable discussion with the Faculty's ledership, Msc programme directors and Master's students, as well as an industry partner, and will also provide answers on how a Master's degree offers more than a bachelor's degree and how a Master's degree can pay off in terms of labour market considerations.
You can participate in the event without filling in the registration form, so filling it out is not obligatory!
Az alábbi videókban a különböző specializációkról látható rövid összefoglaló, a videók a fórumon nem kerülnek levetítésre, így érdemes megnézni őket a rendezvény előtt.
Artifical Ingelligence (AI)
Data Science
Financial Technology (FinTech)
Autonomous Systems (AUS)
Intelligent Field Robotic System (IFRoS)
Cartography
Geoinformatics
Mechanical Engineering (Szombathely)