Invitation: Erasmus Portfolio Project - Free Webinar on Nov 24th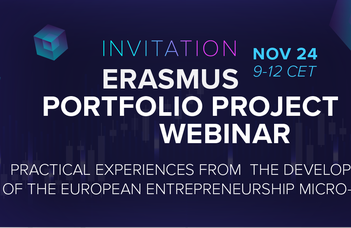 Are you interested in European inter-connected education or online collaborative education? We are glad to announce our first webinar event entitled
"Exploring inter-connected education through a distributed and blended European Entrepreneurship Minor"
. In this event, we will share our experience in designing and implementing our inter-connected education project, called "Portfolio", conducted by five European universities in the frame of Erasmus+.
The webinar is open for everyone and free of charge.
​TO WHOM: Educators, teachers, students, professors, academic staff, policy makers or anyone interested in new approaches to teaching and Inter-connected European Education.
​WHEN: Friday 24.11.2023 at 9:00-12:00 (CET)
WHERE: Online webinar (open and free of charge, the link will be sent by email one day before the event)
SCHEDULE AND CONTENT
09:00-09:45 Designing the Future of Learning - Experiences from Aalto University; Dr. Tomi Kauppinen, Head of Aalto Online Learning-Online Hybrid Lab, Aalto University.
09:45–10:15 Development and assessment of Distributed and Blended micro-courses on European Entrepreneurship; Dr. Alberto Tejero, Universidad Politécnica de Madrid.
10:15–10:45 Guidelines for implementing the remote part of the European Entrepreneurship Minor; Dr. Alvaro Pina Stranger, University of Rennes.
10:45–11:30 Why we need global networks for Secure and Interoperable Digital Credentials?; Kathleen Clancy Senior Desk Officer Digitalisation, German Academic Exchange Service (DAAD).
11:30–12:00 Panel Discussion by the experts.
REGISTRATION
Please register latest 22th November via event page: https://www.inter-connected-education.eu/multiplier-event
WHAT IS ERASMUS PORTFOLIO PROJECT
The PORTFOLIO project aims to provide HEIs with evidence-based knowledge and know-how concerning
digital transformation,
inter-connected higher education systems, and
innovative learning and teaching practices.
With the support of Erasmus+, we have designed and implemented a distributed and blended European Entrepreneurship Minor. After being tested and improved twice (2023-2024), our "Distributed minor" will allow us to develop a Framework for implementing inter-connected teaching and learning practices.
The project will deliver some concrete and practical outputs, such as guidelines offering support, for example, in:
implementing strategies for the recognition of students' learning outcomes across universities,
identifying local (at a teacher level) and global (at an institutional level) constraints, and
creating and managing inter-university pedagogical teams
More about the webinar: https://www.inter-connected-education.eu/multiplier-event
More about the project: https://www.inter-connected-education.eu/project
More about Erasmus+: https://erasmus-plus.ec.europa.eu/
Register here: https://link.webropolsurveys.com/S/532E35A6E9298525
See you in the webinar!
Erasmus Portfolio project partners