ELTE Faculty of Informatics started distance education discussing burning issues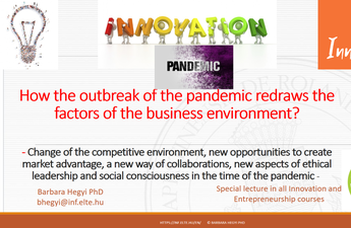 Faculty of Informatics offers courses on innovation, entrepreneurship and management at all levels of education (BSc, MSc, PhD).
The aim is to improve such skills that not only contribute to the development of students' ideas, understanding, participation in a more creative work environment, but also develop essential soft skills to answer rapidly changing set of challenges of today. Courses developing creativity and adaptability are amongst the first ones reacting to the changes caused by the pandemic, analyzing the first reactions of the market, anticipating global changes, initiating exciting discussions in the seminars amongst the participants.
The flexibility of the distance education makes tailor-made content to be provided. In the previous weeks' Business Modeling course, EIT Digital for doctoral students addressed the uncertainty surrounding business models, while bachelor students analyzed strategies for change of the largest tech giants. Master students of "Innosocial aspects of entrepreneurship and students" elective course are attempting to evaluate the changing methodologies in CSR strategies.