Degree programs in informatics: Innovation, entrepreneurship, and practice-oriented teaching methods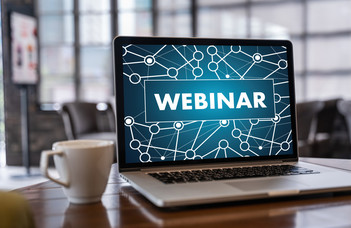 Eötvös Loránd University (ELTE): Leading research university in the heart of Hungary offering a great environment for research and quality education with Hungary's largest selection of exchange and degree programs to the international community. Diplomas issued at ELTE are acknowledged worldwide and course credits are transferable in all countries of the European Union.
ELTE organizes a series of online information sessions, webinars for international students who are interested in the degree programs and funding possibilities at ELTE. The next webinar of this series introduces the Computer Science programs and the preparatory programs at ELTE, the Faculty of Informatics, the application procedure and entrance examination, and stories of current international students. Click on the green button and register for the webinar. You will receive an email about how to join the webinar. All webinars will be live sessions. DEGREE PROGRAMS IN INFORMATICS: INNOVATION, ENTREPRENEURSHIP, AND PRACTICE-ORIENTED TEACHING METHODS
13 MAY 2021 (THURSDAY), 13.00 CET

Wide-ranging services, a mentor system, Orientation Week, and cultural programs all ensure that you find your friends and place on campus and in the vibrant city of Budapest. Education, higher education is developing at an amazing pace, by now it is not easy to find the best places for education, to upskilling yourself! The number of international bachelor and master students increased at the Faculty of Informatics in the last year by large, +60% BSc programmes, +300% MSc programmes.
Modern curriculum, single and joint study programmes,
Innovation and Entrepreneurship courses, for all
Modern teaching methods,
Living industrial partnerships, with research, internship opportunities, work experience,
Extensive network of international partners,
Skyrocketing student services,
and more
Secure your future studies and your future career! A good study programme is a key element to your future education.
Until we meet on May 10th – see the video of Bruno an AI - MSc student of ELTE Faculty of Informatics about his internship.
SCHEDULE
► 13:00 to 13:05 Welcome; Introduction to the program
Hurray! You are here! Marton will welcome the participants and give a briefing about the agenda.
► 13:05 to 13:35 Introduction of the Faculty of Informatics and the study programmes
This quick presentation will help to know ELTE Faculty of Informatics better; you will hear from Marton about the study programmes, facts and figures, industrial partnerships internship and work opportunities, Innovation and Entrepreneurship education and opportunities, facilities and student services.
Foundation year to BSc in Computer Science
BSc in Computer Science
BSc in Mechanical Engineering
Foundation semester to MSC in Computer Science
MSc in Computer Science
Artificial Intelligence specialization
Cybersecurity specialization (also as a joint programme with EIT Digital)
Data Science specialization (also as a joint programme with EIT Digital)
Digital Factory specialization (also as a joint programme with EIT Digital)
Financial Technology specialization (also a as joint programme with EIT Digital)
Software and Service Architectures
MSc in Computer Science for Autonomous Systems (also a as joint programme with EIT Digital)
MSc in Intelligent Field Robotic System IFRoS – Erasmus+ Mundus Joint Master
MSc in Cartography
Doctoral School of Informatics
EIT Digital Summer School, Data Science for Financial Data
► 13:35 to 13:45 Students Talk
Students, alumni will give us an insight into what is it like to study at ELTE Faculty of Informatics.
► 13:45 to 13:55 How to apply?
No worries, we will go through the documents and the online application surface here
► 13:55- Q&A
We do not have to finish on time! This block is to discuss all the questions that arise starting from student life, administration and so on, and so on.