Data Science for Financial Problems – EIT Digital Summer School - Summer School Designed for Success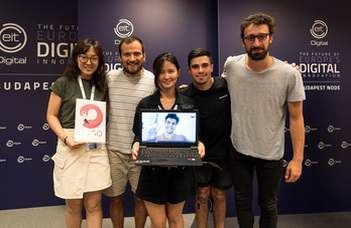 10. May 2021. 13:00
ONLINE
2021. May 10. 13:00 -
ONLINE
---
ELTE and
EIT Digital
organize a webinar about the EIT Digital Summer School on 10 May 2021.
Data Science for Financial Problems is an EIT Digital Summer School (this year online) from Budapest. EIT Digital attracts students, industrial partners, companies with a series of Summer Schools for almost a decade. During the two-week EIT Digital Summer School (18-31 July 2021), participants get hands-on experience through company cases.
A live info session is organized on 10 May 2021 for anyone interested in the summer school. In the session, you will hear about details of the summer school and how you can apply and participate.
Click on the green button and register for the webinar. You will receive an email about how to join the webinar. All webinars will be live sessions.
Deep dive in emerging digital technologies and become an entrepreneur. Get hands-on experience through company cases.
In 2021, the winning team of all summer schools may compete for a prize of EUR 5,000 to proceed with THE WINNING idea. During the summer school, participants will get acquainted with a framework of state-of-the-art technology that will support visual programming and allow alternative approaches of algorithms, comparing the results on the various data sets using the standard metrics.
Want to hear more about the series of live info sessions that Eötvös Loránd University organizes for international students? Please check out the list of upcoming webinars.