Code #LikeABosch – Hackademix a student competition for location detection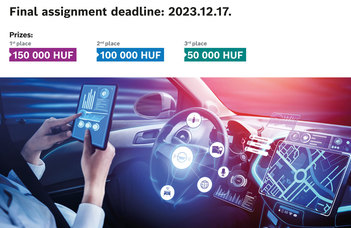 Bosch Hungary is launching a third-time competition for students on self-driving car location problems, open to all BSc and MSc students from ELTE, BME, ÓE, and PPKE.
The task is to develop and design an algorithm to determine a vehicle's odometry – the change of the location through time – in the streets of Budapest using 3D LIDAR Point clouds and camera images. If you are enthusiastic about computer vision, artificial intelligence, or autonomous driving, do not miss this opportunity and apply for this challenge. We give you the freedom to choose the programming language and the development tools only the input and output interfaces are given. The first training sequence will be available from the 1st of June, and we will provide several new datasets during the year.
The TOP 10 solutions will be showcased in the contest final at @Bosch Innovation Campus. The competitors will receive the last dataset at the final after running their application, they have to present their solution to the jury and audience. The all-day event is open for all competitors of the student challenge who can gain insights into the most exciting research in self-driving cars during the all-day program. We reward the best solutions with #money.
The application deadline is (send the solution): 2023.12.17. 23:59 pm

You can find all information About Hackademix on the website below