Bosch International Future Mobility Challange in Cluj-Napoca with the cooperation of the University of Babes Bólyai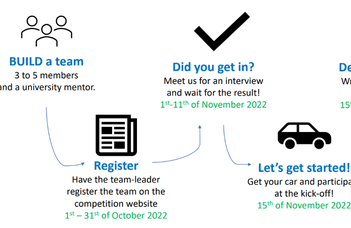 If you are interested in autonomous driving and feel the power to participate in a technical competition where you can work with model cars at a 1:10 scale, mimicking real-driving scenarios, then apply NOW.
During the competition, you will get a deeper knowledge of Computer vision, Vehicle control, Hardware design, Software design, Python coding, Parallel computing, and many more.
Behind the competition is a half-year development process. You can apply for it by forming 3-5 person groups. During the trial the teams will receive a fully working model vehicle, firmware for car control, APIs for shared systems interaction, and indeead plenty of documentation, guidelines, and code example, plus a Bosch mentorship.
If you are interested in this unique opportunity, next apply for this international challenge.
The deadline for forming a team is 30 October 2022.
All details about the competition can be found on the website below: Home - Bosch Future Mobility Challenge